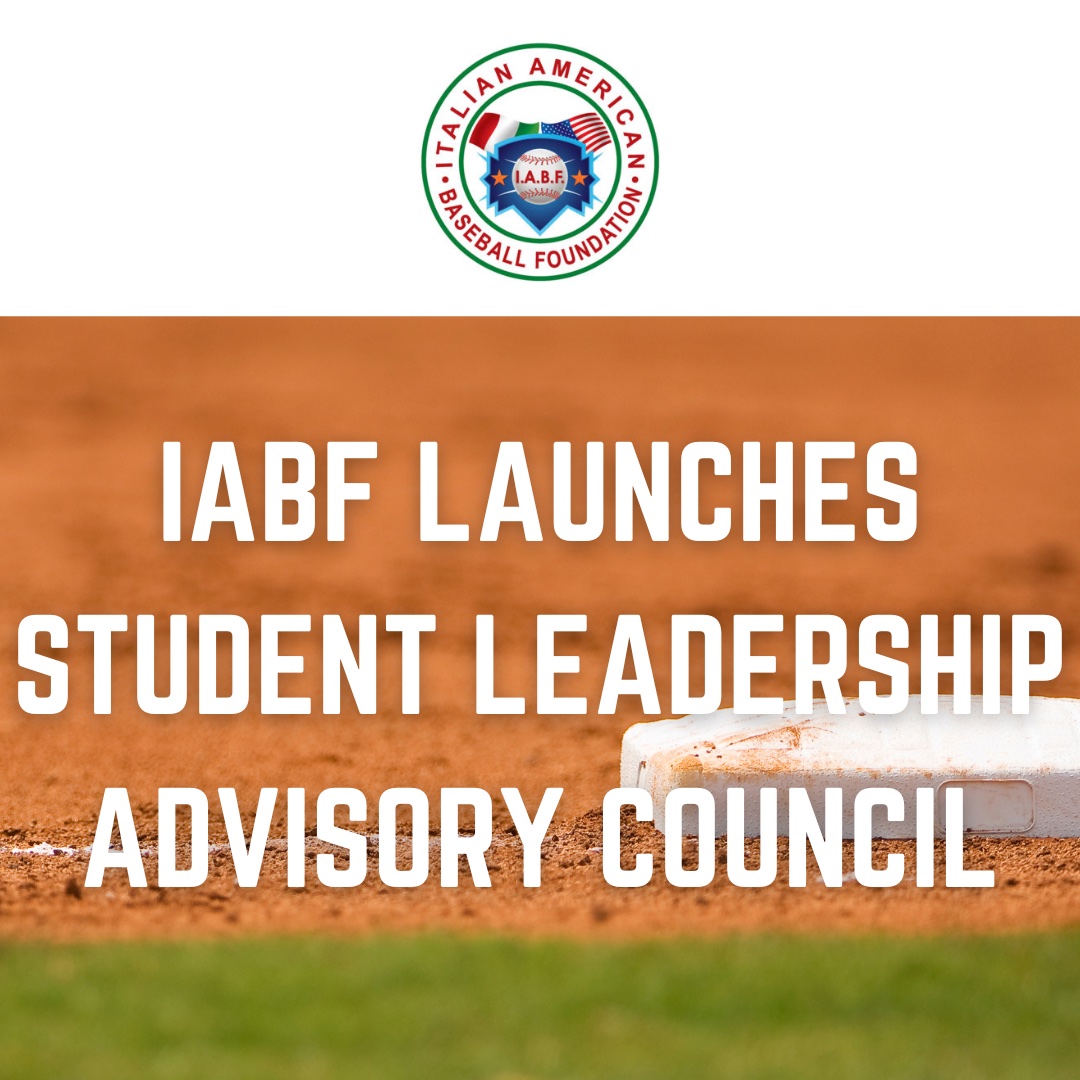 IABF Launches Student Leadership Advisory Council
The Italian American Baseball Foundation is advancing its mission of youth development by launching a new Student Leadership Advisory Council armed with a purpose of creating opportunities for students to learn and develop their potential and interests in baseball and international relations specific to Italian culture.
This council will help high school and college students amplify their voice and creative ingenuity to grow the Italian American Baseball Foundation, while harnessing their deep passion for baseball and Italian heritage.
The inaugural leadership group will consist of IABF Scholarship recipients from 2021 and 2022 and grow each year to include those college student-athletes.
"As we continue to evolve IABF, our mission is clear and we hope to grow the game at all levels through education, communication and passion," said IABF President/Founder Joe Quagliano. "Through youth clinics and a growing scholarship program we have tapped into a vibrant group of passionate student-athletes. We want to harness that potential and create even more opportunities."
The Leadership Council is co-chaired by IABF board trustee Chris R. Vaccaro and Bryan Vaccaro.
"Leadership is a powerful trait, and we hope to create a cohort of servant leaders in baseball and international relations that will leave their mark," said Chris. "IABF's potential is being witnessed on the field, in the classroom and in the community and this is the next step in our journey."
Chris, who manages operations and communications for IABF, is a media executive, author and longtime journalism professor and director of graduate journalism at Hofstra University on Long Island. Bryan is a social studies teacher and multi-sport coach at Port Jefferson High School on Long Island.
Inaugural Student Leadership Advisory Council Members
| | | |
| --- | --- | --- |
| Francesco | Bonvini | Kingsborough Community College |
| Carmine | Carbone | College of Staten Island |
| Dylan | Fanelli | Allegheny College |
| Luke | Filippi | University at Albany |
| Gianna | Laspina | Southern New Hampshire University |
| Franco | Logozzo | St. Joseph's University (Patchogue) |
| Matt | Mondrone | McDaniel College |
| Daniel | Monti | Sonoma State University |
| Anthony | Prisinzano | St. Joseph's University (Brooklyn) |
| Shanno | Russo | Raritan Valley Community College |
Program Details
Advisement: IABF leaders will help advise the students on majors, careers and opportunities related to sports business, sports management, education or international relations
Connections: Exclusive Zoom calls and discussions with pro baseball leaders throughout the year
Youth trainers: Serve as clinicians at future IABF youth baseball development events
Interns: IABF-SLAC members will have the opportunity to work in the IABF Internship program
Communication: Frequent emails about baseball, leadership and Italian opportunities with educational advantages
IABF events: Invites to specific IABF baseball events throughout the year
About IABF: The Italian American Baseball Foundation (IABF) is a 501c3 charity foundation established in 2016 committed to developing and promoting youth baseball and softball in the United States and Italy by sponsoring clinics and camps supervised by MLB players, scouts, and college coaches. The goal is to harness an appreciation for our Italian American culture and heritage through baseball and softball. IABF awards college baseball and softball scholarships to high school students that qualify, donates equipment to organized youth teams and individuals in need and advises on citizenship documentation for players in Italy and America. Our goal is to build an international youth baseball and softball academy that will combine education and baseball. The IABF is committed to achieving excellence in the classroom, on the field and in the community.
-30-