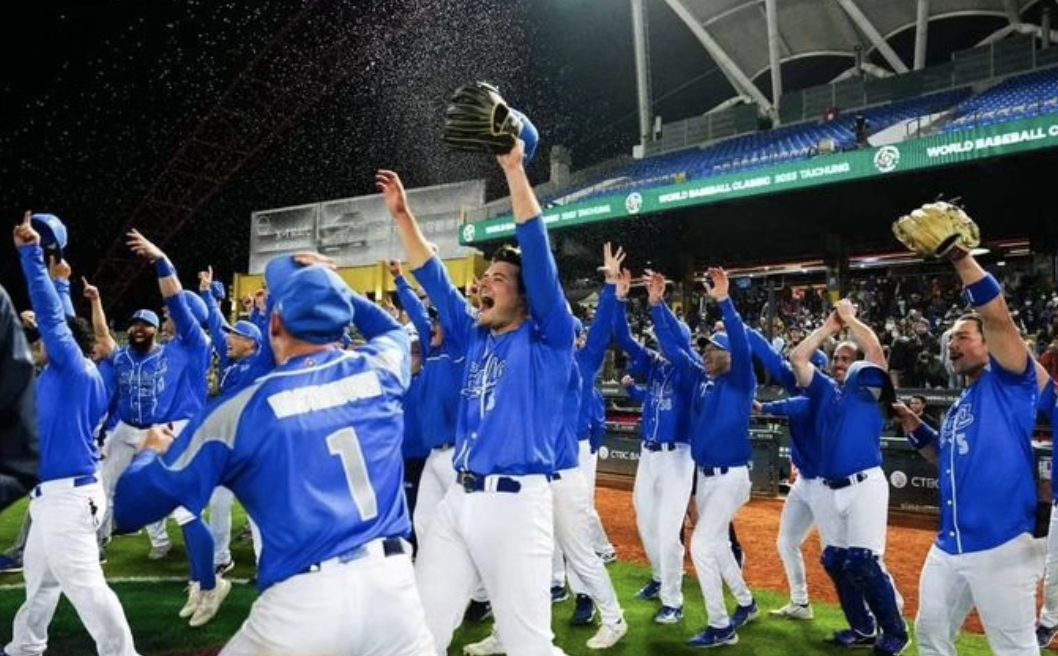 Pride, Passion and Purpose, an Italian Baseball Vision Realized
The following was written by IABF Trustee Chris R. Vaccaro ….
I've been caught up all day with how important today's Team Italy win was for what we're trying to build in Italy and what we're fighting for among Italian Americans.
We understand baseball in Italy is a niche, and harnessing our interests in Italian Americans in the game is even more specific. But after today, do you see why? On the biggest stage, our guys came through, and it's glorious to be part of this journey.
Today felt like winning the World Cup if you're Italian and love baseball. We didn't have to win the World Baseball Classic to feel an overwhelming sense of accomplishment. Having been embedded with this team since our "Mission Classic" trip to Italy in November, IABF has lived and died with every pitch at every way-too-early game on Fox Sports and Tubi.
IABF – known as the Italian American Baseball Foundation – has partnered with the Federation of Italian Baseball and Softball for years. We believe in growing the game of baseball in Italy and using scholarships, college showcases and youth development to build a pipeline and sustain this baseball goodwill for years to come.
With countless new eyeballs on Italian baseball today after the Azzurri's major win over the Nethlerlands and a clinched berth into the quarterfinals of the World Baseball Classic, it's important to restate our purpose. It's important to remind the world that we've always been here, that we have believed in this team, in Mike Piazza and the path FIBS used to build this roster from day one. While the rest of the world has viewed Italian baseball as an espresso machine in the dugout and hand gesture after a hit, we see a very skilled roster of players looking to make a name, some looking to showcase their abilities and land a big league job and others who are right where they need to be because they feel an undeniable pride in our heritage.
We saw it in Italy in November where 12 pro players, many in the big leagues, visited Italy with Piazza, the coaching staff and IABF officials to learn about what they're playing for and build a connection to the land our ancestor's called home. On a baseball field in Arezzo, Tuscany, players took batting practice and mingled with town natives, broke bread next to the small rural field and connected through baseball beyond any of our wildest dreams. It was beautiful. Watch our documentary to relive the trip.
We saw it in Arizona last month at a Team Italy mini camp where Italian natives were joined by some Team Italy roster invitees to practice for five days and continue to bond. Players like Matt Harvey, looking for an opportunity to showcase his skill, shared the field with veterans like Alberto Mineo and Claudio Scotti. Harvey was just as appreciative for the opportunity as players like Mineo and Scotti, who have been on Italian national teams for years but embarked on their first WBC experience in 2023.
We saw it at the IABF send-off dinner in Arizona where the entire team gathered before their trip to Taichung and opening round games against Cuba, Chinese Tapei, Panama and the Netherlands. During that dinner, there was an overwhelming sense of team and familiarity. This group traveled around the world as a family. And for Italians that means everything.
Sure enough, that same family came out slugging against Cuba and put up four runs in the top of the 10th inning to capture a 6-3 opening victory. They did it again with a 7-1 win over the Netherlands on Sunday. This team is special. Their identity is not derived from one player. It's a culture. A bunch of passionate Italians that want to win for one another. Sounds perfect.
Today will go down as one of the more historic days in Italian baseball history. It's about Carmine Gangone and Joe Quagliano and what they started to build seven years ago with IABF, of which I'm grateful to be part of and help them carry to new heights. It's about men like Marco Landi who have dedicated their livelihood to promoting Italian baseball. It's about Mike Piazza who is raising his family in Italy as a true testament to the country and cares deeply about the success of this team. It's about Gianmarco Farone and the depths of the roster management that went into creating this WBC bunch. It's about Michele Gerali, Mike Borzello, Chris Denorfia, Jack Santora, Blake Butera, Jason Simontacchi, Marcus Mastrobuoni and their leadership as coaches.
And we're still going. We're onto Japan. The stakes are higher. The games will be more difficult. We're confident this team knows exactly who they're playing for – 59 million Italians and 17.8 Italian Americans – and IABF is proud to be along for the ride.
The outpouring of support has been incredible for Italian baseball this week, especially Sunday morning. Several Italian American organizations and countless people on social media have come alive following the win. Let's build on this momentum. Let's not wait until the next World Baseball Classic. If you are Italian, Italian American and a baseball fan, we want you involved with IABF. Come to our events like the Joe DiMaggio Award dinner in April, or many of our Italian Heritage games across the country, support our purpose, follow us on social media, subscribe to our newsletter and make this shared passion in growing the game part of your heritage and fandom.