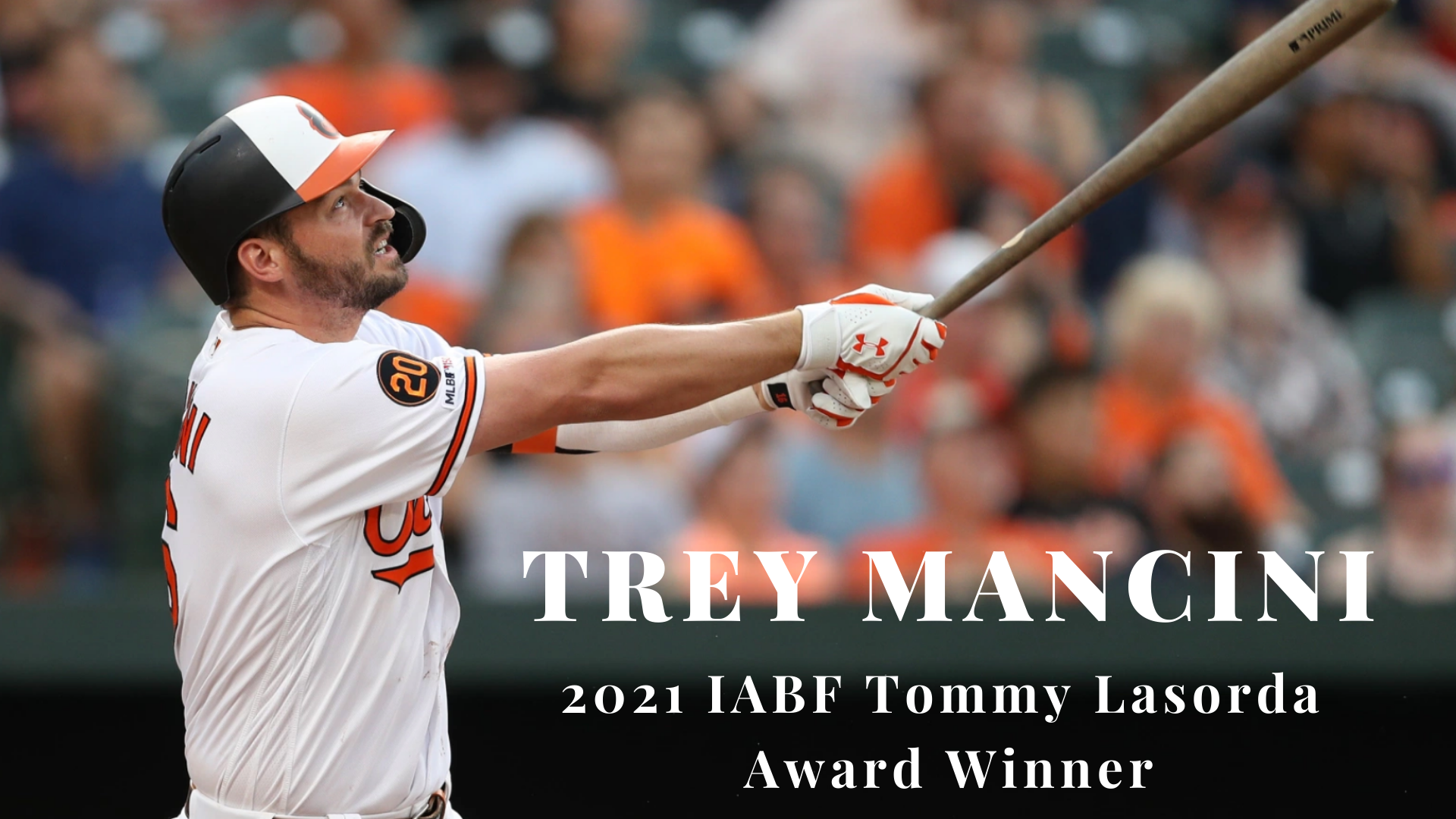 Trey Mancini to Receive IABF Tommy Lasorda Award
Baltimore Orioles first baseman / outfielder and Italian American Trey Mancini has been an inspiration. After battling cancer, he is back on the field in 2021 and will be honored by the Italian American Baseball Foundation as the Tommy Lasorda Award recipient at this year's awards gala.
"It is our honor and privilege to recognize Trey for his determination and serving as the ultimate example of perseverance," said Joe Quagliano, President and Founder of the IABF. "We admire his loyalty to our Italian American heritage and culture and look forward to celebrating with Trey and his family later this year."
This award is meant to recognize Italian Americans who have made strong contributions to baseball and who serve as proud examples of our culture and heritage, while believing in our mission of history, development and education.
During spring training in 2019, Mancini learned he had stage 3 colon cancer and underwent chemotherapy for six months. He returned to the field this season after his battle. In 2019 he had established himself as one of the top hitters in baseball, setting career highs with 35 home runs and 97 RBI. He was also one of three players in the league with at least 35 doubles, 34 home runs and 100 runs.
A Winter Haven, Florida native, he played collegiate baseball at Notre Dame and was selected by the Orioles in the eighth round of the 2013 MLB Draft. Three years later he made his Major League debut and hit a home run in his second at-bat.
Past Guests of Honor include Mike Piazza (2016), Bobby Valentine (2017), John Franco (2018), Joe Girardi (2019) and Lee Mazzilli (2020). In 2021 the IABF renamed its Guest of Honor award to remember the legacy of Italian American baseball legend Tommy Lasorda.
Lasorda was elected to the National Baseball Hall of Fame in 1997. He won World Series titles as manager of the Dodgers in 1981 and 1988 and was extremely proud of his Italian American heritage.
The annual IABF Awards Gala will be held in December in Brooklyn, N.Y. More information about tickets, location and logistics will be available this summer.
About IABF
Started in 2016 with our inaugural dinner honoring Hall of Famer Mike Piazza, the Italian American Baseball Foundation (IABF) is a registered 501c3 charity that is committed to the future of baseball & softball for Italian & Italian – American youths on the high school, college and professional levels. While we move forward, we remember those who paved the way and brought us recognition and respect. Names like Dimaggio, Berra, Rizzuto, Righetti, and Franco still resonate today among the young students of the game. The IABF is adamant about adding new names to the list of Italian – American Baseball greats!
Our focus on developing young talent both in the US and Italy is top priority. Each year we sponsor several showcases and clinics that are conducted by former MLB players and top college coaches. We invite professional scouts and college recruiters to attend and evaluate the talent. We are working closely with several colleges and are deeply committed to helping those who qualify academically achieve a college education through baseball & Softball.
The IABF provides citizenship documentation assistance for Americans to play on the Italian Olympic and WBC Baseball teams.
The IABF donates equipment to individuals, teams, and leagues that qualify. Helping families by giving their children the opportunity to have the proper equipment is as important to us as if it was our own children.