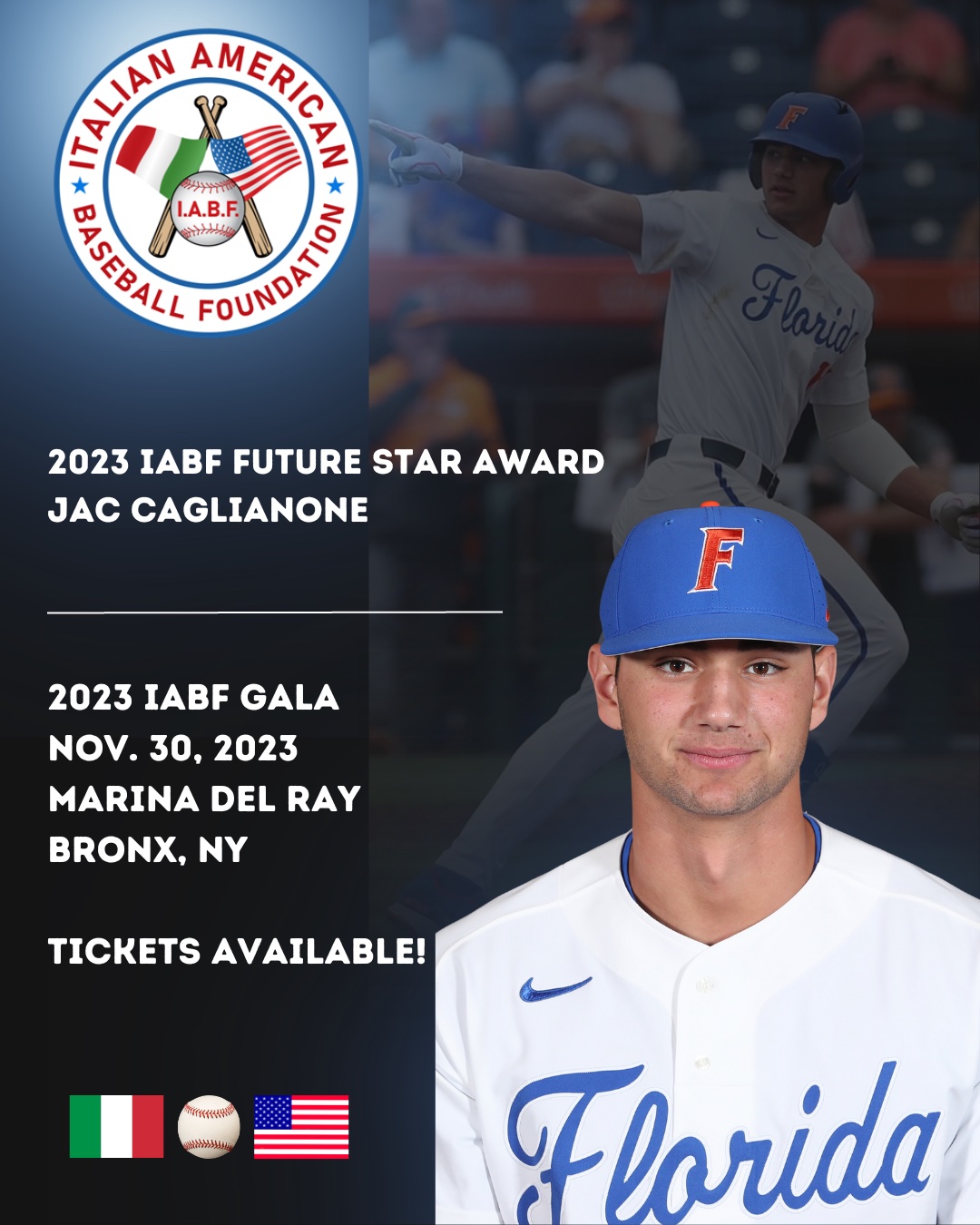 University of Florida's Jac Caglianone Named 2023 IABF Future Star Honoree
University of Florida baseball star Jac Caglianone has been selected as the 2023 Italian American Baseball Foundation Future Star honoree and will be recognized at the IABF Gala in November.
Tickets are officially on sale for the November 30 event, which will take place at Marina Del Ray in the Bronx.
Caglianone, often compared to Shohei Ohtani as a versatile and powerful baseball player, is one of the brightest young prospects in the game. He wrapped up his sophomore season as a Consensus First Team All-American and the ABCA National Position Player of the Year. He also collected First Team All-SEC honors and was a Golden Spikes Award Finalist, Dick Howser Trophy Finalist, and John Olerud Two-Way Player of the Year Finalist. He set a program record with 33 home runs and single-season program records with 90 RBI and 208 total bases.
Caglianone was the lone player to start all 71 games for the NCAA Runner-Up Gator and slashed .323/.389/.738 across 282 at-bats. He totaled 91 hits, 33 home runs, two triples, 14 doubles, 90 RBI, 74 runs, and four stolen bases. He also made 18 weekend starts and went 7-4 with a 4.34 ERA, .190 BAA, and 87 strikeouts in 74 2/3 innings.
"It means everything," said Caglianone of his Italian heritage. "With my dad being Italian, it gave me that tough pronunciation of my last name. I talk to my grandpa often; his parents are from Italy. He always talked about his parents and how things operated over there. I try to incorporate it into my life with my dad. It plays a big role."
Asked about his favorite Italian American ball player, Caglianone says Mike Piazza, the Team Italy manager and an ambassador of IABF.
"The way he played the game, that fire he had," he said. "I wasn't around to watch him play, but I've seen plenty of re-runs, and the way he handled and carried himself is pretty sweet."
Caglianone follows Anthony Volpe from the Yankees and Team Italy catcher and Phillies prospect Vito Friscia as past IABF Future Star Award recipients.
Tickets, tables, and sponsorships are officially available now! More IABF honorees will be announced in the coming weeks.