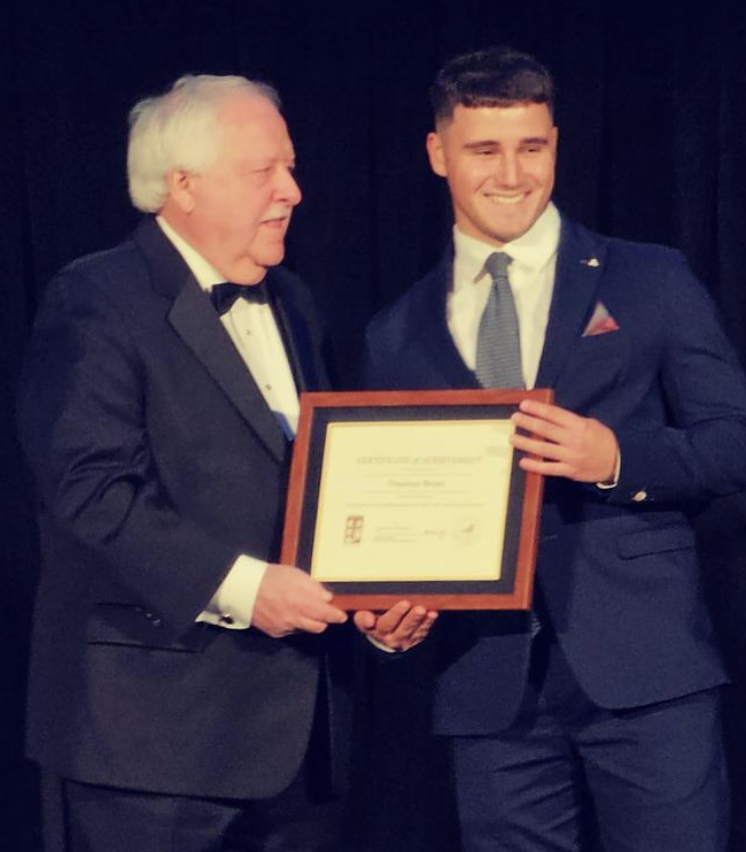 Vincenzo Bruno Named IABF-Sons of Italy Scholarship Recipient
Vincenzo Bruno has made his way to play baseball in the United States by way of Canada and Italy. The journey to pursue his dream on the diamond is commendable, which is why he was chosen for the prestigious Italian American Baseball Foundation and Sons of Italy Foundation scholarship.
He was presented with the honor at the annual Order of Sons and Daughters of Italy in America gala in Washington D.C. earlier this spring and will be recognized at the annual IABF Gala in November in New York City as well.
Starting in 2022, IABF and OSDIA partner on one matching scholarship. To have an Italian native playing college baseball in the states, while holding a 4.0 GPA and being humble through the process of international travel and recruiting, Bruno fit the mold for what IABF identifies before presenting the chosen player to the Sons of Italy Foundation.
His journey has taken him from Educandato Statale Collegio Uccellis in the Province of Udine in northern Italy to the North Toronto Collegiate Institute to Mid-Michigan College and finally Monroe College in New Rochelle, New York.
"I am very thankful and honored to have received this scholarship," he said. "Since the beginning, finding a college in the U.S. was a money concern. Fortunately, I learned about the scholarship the IABF offers to Italians studying and playing baseball abroad. Furthermore, I believe this strong community of Italians in the U.S. is a point of reference for baseball and softball players trying to pursue a college career."
He has played for the Italian National Team at several levels from 12U, 15U and in the 18U European Championship.
"The pressure for representing my country played an important role in me and it will always be like that because, even though Italy is not that famous for baseball, it gave me so much," he said. "Winning this scholarship helped me come a step closer to chasing my dreams and honor the Italian community, like my grandparents, who immigrated to Canada and the U.S. in the 1960s. I would not be here today if not for the sacrifices my grandpa and grandma went through to start a new life across the ocean, giving me Canadian citizenship."
Bruno is appreciative of the opportunity to represent his home country while playing the game he loves.
"I want to say thank you to the IABF and to the Sons of Italy foundation for believing in me and giving me this big opportunity to represent the same community my grandparents were once part of," he said.
IABF will be announcing the rest of its 2023 scholarship winners in the coming weeks.